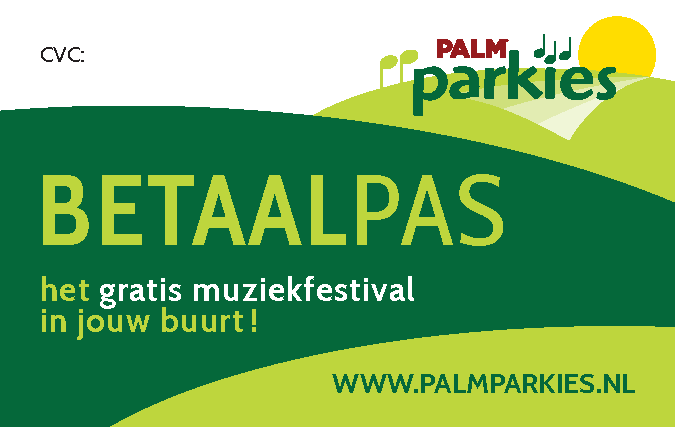 Op een mooie avond wil iedereen natuurlijk genieten, maar ook snel geholpen worden aan de kassa's en bars. Daarom maken we gebruik van de PALM PARKIES PAS. Deze kan je opwaarderen bij de kassa's op het terrein of via de app of website van KNIP. Eenmaal je een pas hebt hoef je eigenlijk niet meer langs de kassa om op te waarderen. En achteraf kan je jouw tegoed gewoon terug vragen!
Alle spelregels op een rij:
Betalen met bankkaart is 25% goedkoper dan betalen met contant geld (omwille van veiligheidsredenen proberen we cashgeld te weren van het terrein).
De PALM PARKIES PAS wordt opgeladen met 'PARKIETJES'.
1 PARKIETJE betaald met bankkaart kost €1.30, betaal je contant dan kost een PARKIETJE €1.65.
Koop je bijvoorbeeld 10 PARKIETJES en je pint? Dan kost dit €13,-
Ander voorbeeldje: een Estaminet (karaktervolle pils) kost bij ons €2.60, met andere woorden 2 PARKIETJES.
Je kan het tegoed via de KNIP app of website beheren.
Maak hiervoor eerst een account in de app van KNIP of via de site.
Via de KNIP app of website kan je het tegoed opwaarderen en al jouw transacties terugvinden.
Achteraf makkelijk tegoed terug vragen (van 25/8 tot 30/9, eenmalig €2.50 administratiekosten).
Het tegoed op de pas is geldig op alle concerten van PALM PARKIES in Nederland.
De app van KNIP is beschikbaar op ANDROID en IOS en kan je downloaden in de appstores.
https://www.parkies.nl/wp-content/uploads/2017/06/59010_Betaalpas_NL_4_Page_1.png
427
675
Bas Witlox
Bas Witlox
2017-06-19 14:32:25
2018-09-04 07:41:10
Gemak met de PALM PARKIES PAS!